Graduate Diploma in Information Technology
Study for free

Locations and dates

Nelson:

21 February 2022

18 July 2022

Study options

Full time or part time

Length

1 year full time

Total credits

120

Fees

$6,845

A Compulsory Student Services Fee also applies ($240 for fulltime students).
Fees listed are for each year of the programme, indicative only and may vary with course selection. View course details for individual fees.

National qualification code

NE4587
The Graduate Diploma in Information Technology is for students who have already completed a degree.
This programme provides comprehensive knowledge and training in the latest developments in computer technology.
The Graduate Diploma in IT is designed on a one to one basis. As a student you will receive individual course plans that are designed around your needs, interests and career plans.
If you already have a degree, or extensive business experience and are looking to enhance your professional career, whether in a technical or a business area, this programme will give you an opportunity to extend your knowledge into a specialised field without having to complete another degree.
Choose to focus on one of four areas of IT with your elective courses. See Choosing a specialism below for more details.
Networking
Software Development
Information Systems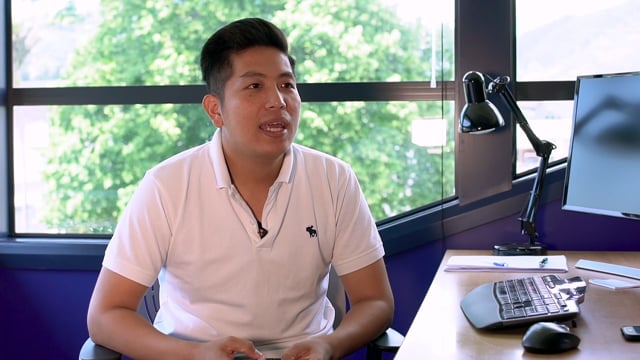 Hoang's NMIT Internship Experience
Hoang from Vietnam took advantage of NMIT's Internship with Study option and it has set him up on a path to a great career in the information technology industry.
Key information for students
Entry requirements
Minimum requirements Learn more
A Bachelor s degree which includes IT related study at Level 5 or above. Applicants who are unable to evidence that they meet Academic Entry Requirements, but who can demonstrate acquired skills for tertiary study gained through study, work and/or life experience, may be approved for alternative entry by the Curriculum Manager (or delegate) If English is not the applicant s first language, applicants will need to provide a result from a test or qualification on the acceptable alternatives English Proficiency Outcomes Table. IELTS 6.0 Academic (no lower than 5.5 in each band), Note: Applicants who have achieved NCEA Level 3 University Entrance requirements are not required to provide evidence of English language skills Applicants who do not have evidence of English language skills and are a New Zealand citizen or permanent resident, may contact NMIT for an assessment IELTS scores used must be taken from a single IELTS Test Report Form and are valid for two years from the date of the test.
Detailed requirements
More information about entry to this qualification
Tuition fees
Student success data is unavailable for this qualification.
National Graduate Outcomes Learn more
National graduate outcome data is unavailable for this qualification.
Note: All KIS information is the most recent available relating to domestic students only. Learn more about Key Information for Students
Start your application today. You'll be glad you did.