Head Zone
Enjoy a revitalising hair treatment performed by our hairdressing students at our professional Head Zone salon.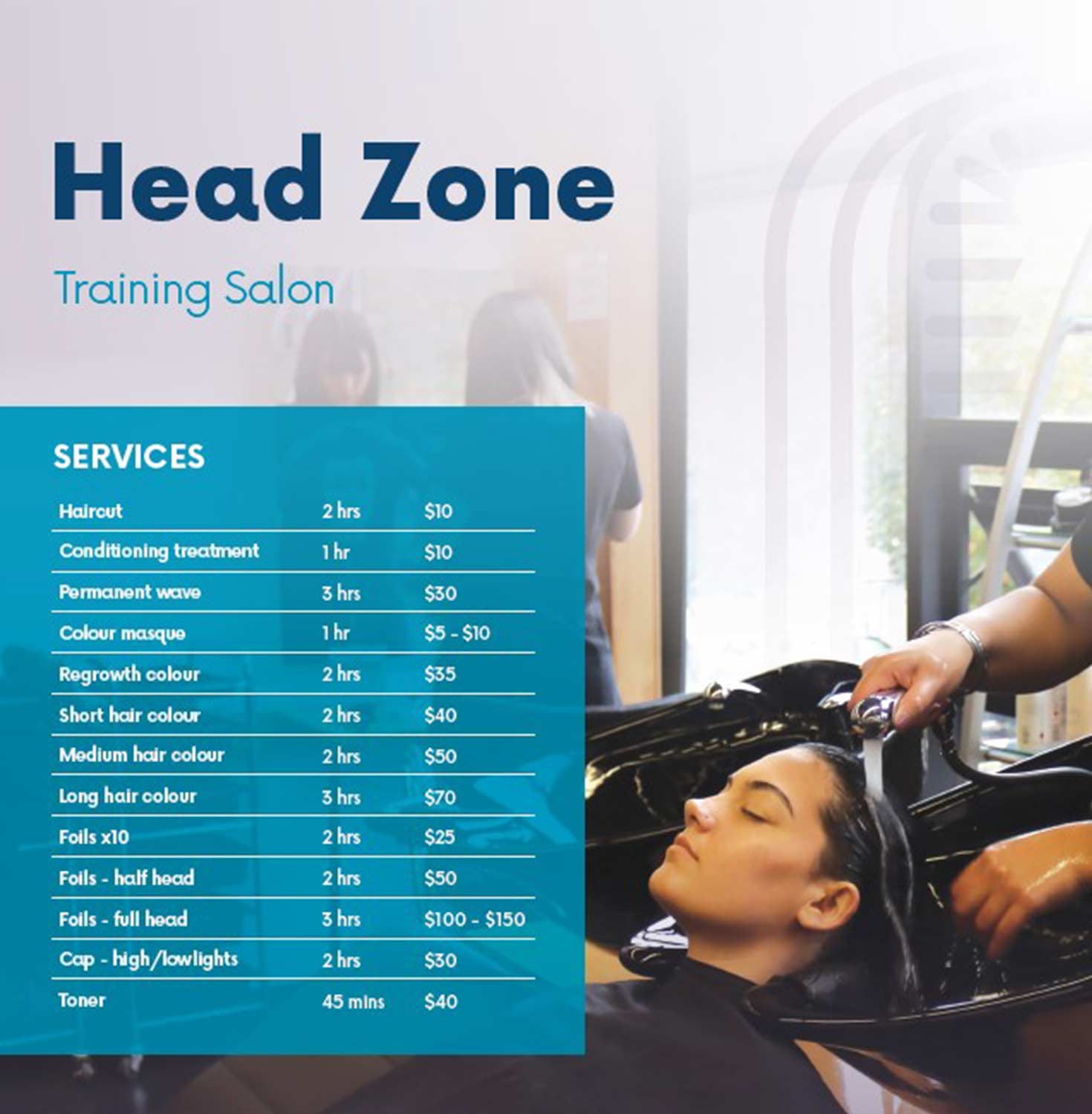 Our Head Zone hairdressing salon is open now and offers a wide range of services including shampoo and cuts through to colours and perms. We also offer gift vouchers, loyalty cards and can offer advice on the wide range of salon-quality products we sell.
Our first- and second-year students will be offering a range of low-cost treatments to members of the public. It's a great way to pay less for your treatments while helping our students gain practical experience working in real salon environments with real clients. You'll leave looking and feeling great for a fraction of the normal cost.
Opening Hours
Head Zone salon is open during term time by appointment Tuesdays 1pm – 7pm
Phone: 03 546 2723 or email the team: nsnhairbeauty@nmit.ac.nz.
View the Head Zone price list here. [PDF, 1.8 MB]
The Head Zone salon can be found on the second floor of the Hospitality and Wellbeing building - T Block, at the Nelson campus, entrance from 71 Nile Street, Nelson.
Payment is by EFTPOS only.
Cancellations
We would really appreciate it if you could try and give us 24-hours notice if you can't make your appointment, as it can be very disappointing for the student if you don't appear when they are expecting you.
Training Salon Considerations
All treatments are provided under the supervision of our industry-experienced tutors.
Please note that appointments may take a little longer than normal as this is a training environment. On occasion, there may be more than one trainee working on you at a time. Please remember that these students are just starting out on their choice of careers.
Skin patch tests are compulsory for every colour and need to be done within 48 hours of having a colour treatment.