New Zealand Certificate in Study and Career Preparation (Level 4)
Study for free

Locations and dates

Marlborough:

Nelson:

21 February 2022

Art and Design

21 February 2022

Health

18 July 2022

Art and Design

18 July 2022

Counselling and Social Work

18 July 2022

Health

Length

19 weeks full-time including 2 weeks of study breaks

Total credits

60

Fees

2022: $2,720 plus $120 Student Services Levy

A Compulsory Student Services Fee also applies ($240 for fulltime students).
Fees listed are for each year of the programme, indicative only and may vary with course selection. View course details for individual fees.

National qualification code

NZ2860
If you don't meet the entry requirements for a degree, like Nursing, Art and Design, Counselling or Social Work, or a diploma - this is the programme for you.
No matter what your age, if you are looking to get into study, this programme offers different pathways to best prepare you and give you the confidence to succeed on your chosen degree or diploma.
What pathways can I choose?
There are three pathways to choose depending on what you want to do:
What courses make up the pathways?
The 60 credits to complete the programme includes two 15 credit courses are core to all pathways and are compulsory.
The compulsory courses are marked with a C below (Skills for Successful Tertiary Study and Building Communication Competence).
You can then select two more 15 credit courses to make up the required 60 credits from the following pathway options:
The Hauora Pathway for Health, you can choose the courses called: Introduction to Health Studies and The Biophysical Basis of Health.
Te Hāpai Hāpori Pathway for Counselling and Social Work, you can choose the courses called: Introduction to the Counselling Profession and Introduction to the Social Work Profession.
The Ngā Toi Pathway for Arts and Design (Level 4) programme provides students with the basic knowledge and skills to pursue further study in the creative industries.
Course selection does not occur until after your application is with us and we will then talk to you about the courses you want to choose.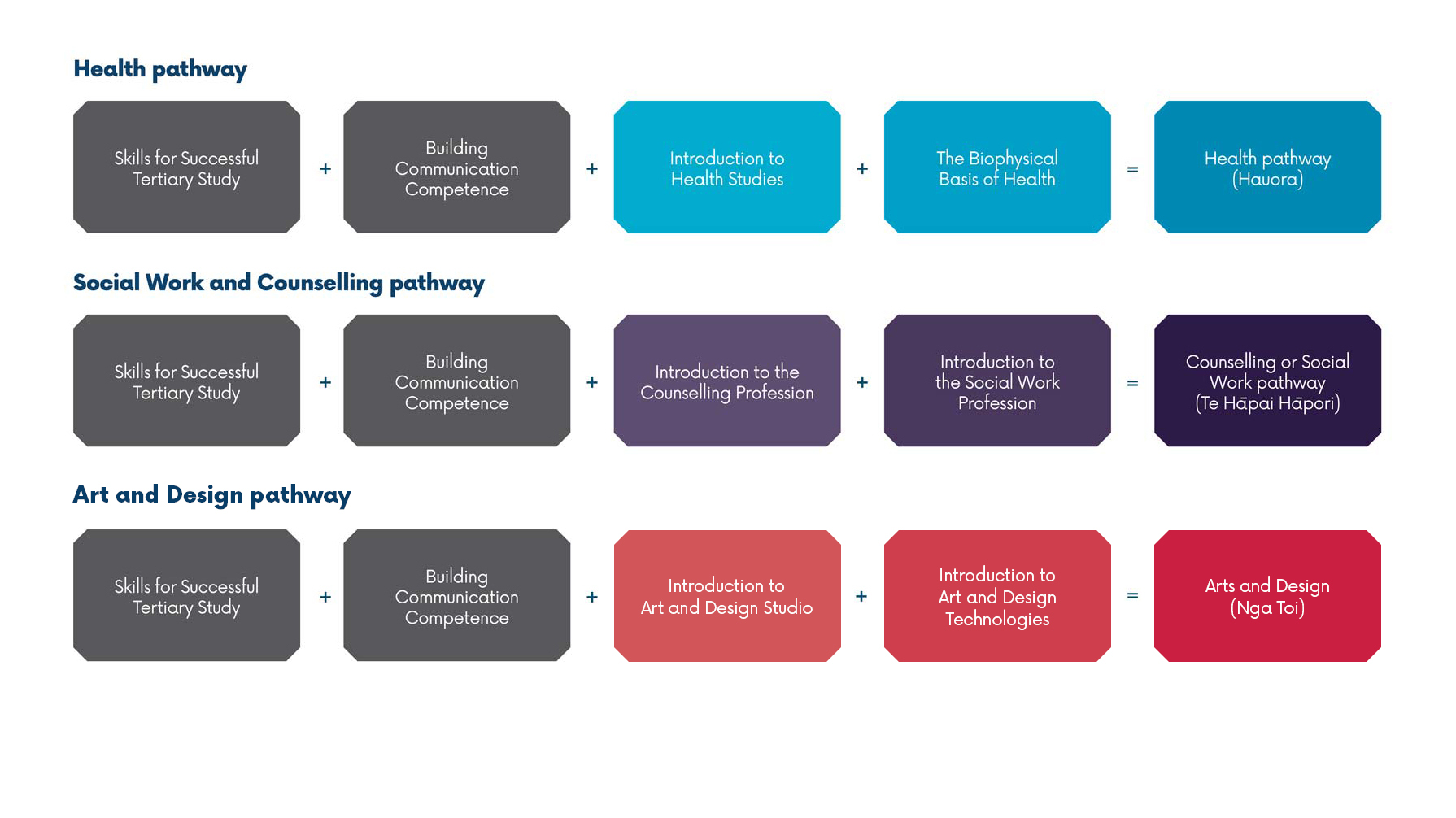 Courses in your pathway
Your pathway is made up of core courses and ones specific to your pathway so you can go onto the study you want to do with confidence.
Start your application today. You'll be glad you did.