Katrina Marwick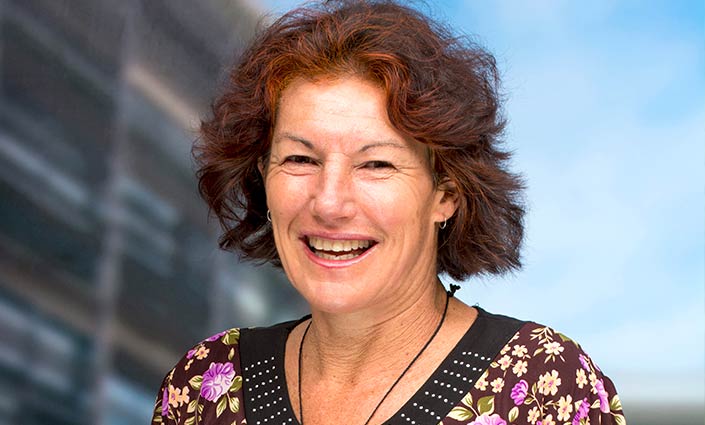 Katrina Marwick coordinates the Hospitality and Tourism Programmes at NMIT.
She has a strong and active commitment to the environment and conservation issues and has worked for the Department of Conservation as a Resource Planner and Consultant and for the NZ Forest service as a Planner and Conservationist. Katrina is a member of the Tourism and Travel Industry Advisory Committee at NMIT and part of the institute's Sustainability Committee. She's also a Learner Coach for Tourism Management and Travel students and is actively engaged with industry through her involvement with student projects and as a business mentor.
Her extensive involvements with industry and community groups include: membership of the Nelson-Tasman Sustainable Business Forum and the Nelson-Tasman Cycle Trail Trust. She also does support work with Refugee Services Nelson and is a member of Forest and Bird and a supporter of the Brook Waimarama Sanctuary.
Currently leading a three-year research project to explore economic and social impacts of cycle tourism in Nelson Tasman Region, Katrina has also been selected as a Learning Champion at NMIT and is undertaking research in the area of Individual Learning Plans and Learner Coach Roles as part of Learner Journey.  Previous research has included a collaborative project with educators at Unitec looking at Co-creative Academic Inquiry.
Katrina is passionate about learners achieving their goals. "My job satisfaction comes from seeing students becoming independent thinkers, questioning everything, hungry for knowledge and inspired by challenges, self-motivated to achieve the best they can. The more we learn the more we realise there is to learn."
Master of Science (Natural Resource Management), BSC Geography, Certificate in Visual Communication Design, Diploma Tertiary Teaching and Learning
Recent research outputs
Perkins, R. & Marwick, K. (2013). A comparison of two individual learning plan models [Report]. Nelson, New Zealand: NMIT.
Marwick, K., Perkins, R. & Crawford, C. (2013). Online individual learning plans: a tool for effective learning and successful outcomes. Paper presented at the National Tertiary Learning Conference, Invercargill, New Zealand