Dr. Anja Studer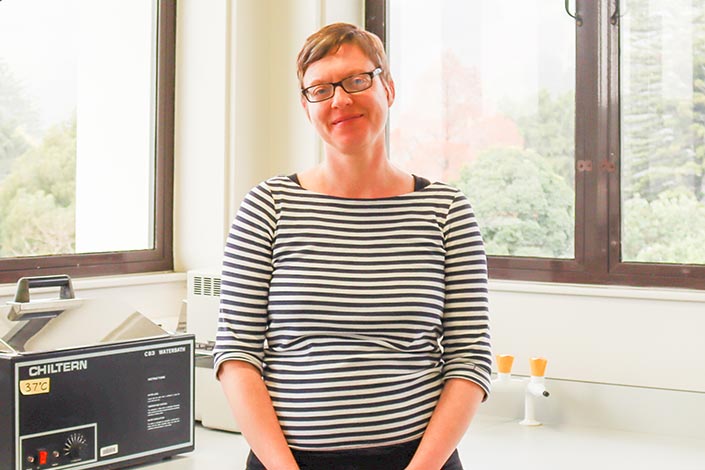 Dr. Anja Studer is at the forefront of research into the potential impacts of climate change on the marine environment. Her specialist knowledge and experience are an asset to NMIT's Aquaculture and Marine Conservation programmes.
Dr. Studer is an expert on how environmental changes affect patterns of disease and parasitism in marine environments.
Born and raised in Switzerland, she first came to New Zealand as a tourist before moving here to complete her Ph.D.
Dr. Studer has a Master's of science, specialising in biology and sustainability studies, from the University of Basel in Switzerland.
She did her Ph.D. in zoology and ecology at the University of Otago.
Following that, she worked as a Postdoctoral Research Assistant at the University of Otago where she was involved in projects on the potential consequences of climate change on marine host-parasite interactions.
She has been working with the Ministry for Primary Industries' aquaculture unit in Nelson on and off since 2014.
In 2015, Dr. Studer started as an Academic Staff Member at NMIT, teaching on the Bachelor of Aquaculture and Marine Conservation(external link) and Postgraduate Diploma in Sustainable Aquaculture(external link).
Students benefit from her extensive research and industry experience, which is not only relevant to aquaculture, but also to ecology, biosecurity, and conservation.
She says she enjoys interactive lessons where the teaching and learning are enriched by everyone's experiences.
"It is incredibly exciting and rewarding to work in the space of aquaculture and marine conservation and science, and to contribute to educating learners with a holistic understanding of these subjects," Dr. Studer says.
"NMIT allows for a much more personal study experience, one on one tutor time and more relevant work experiences so students are much more likely to get a job in their chosen field."
Dr. Studer has authored and contributed peer-reviewed studies that are helping to advance the research in her field.