Front-end Website Design Training Scheme
Study for free

Locations and dates

Online:

21 February 2022

18 July 2022

Study options

Online

Length

20 weeks including 2 week study break

Total credits

20

Fees

$288

A Compulsory Student Services Fee also applies ($240 for fulltime students).
Fees listed are for each year of the programme, indicative only and may vary with course selection. View course details for individual fees.

National qualification code

NE4954
Websites are an increasingly important part of a business's interaction with their customers.
Through this online programme you can learn skills in front-end web design, to enhance the visual communication of a business, from anywhere you have an internet connection.
This programme is designed to help you develop practical skills as well as a theoretical understanding of a range of digital media and design processes through the exploration of front-end website design.
This front-end website design programme is suitable for anyone new to website design, to jump in and start designing with code - all you need is to be confident with common computer software (e.g. Microsoft office suite).
You will be encouraged to explore a wide range of digital design approaches for researching, developing, documenting, communicating and contextualising your ideas through set project briefs.
What will I learn to do?
Develop a basic to strong understanding of design principles for online multimedia applications
Generate creative ideas through research, evaluation and application of relevant design history and theory
Create 'live' website designs that adhere to responsive website design standards
Design and build theme related designs suitable for business ventures, public events or personal portfolio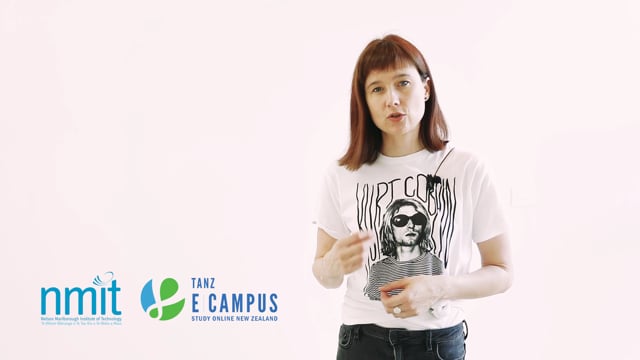 Meet Jess Shirley
Meet Jess Shirley, Facilitator on the Front-end Web Design programme.

In this video Jess shares what you can expect to learn while studying.
Key information for students
Entry requirements
Minimum requirements Learn more
Academic: Minimum of 42 credits at Level 3 or above on the NZQF, including at least 14 credits at NCEA Level 3 (or equivalent) in each of 2 subjects, of which at least 1 relates to English and at least 1 is from the subject list below; with a further 14 credits at Level 3 or above from no more than 2 further domains on the NZQF. Design, Painting, Printmaking, Graphics, Technology, Sculpture, History of Art, Photography, Media Studies, Design (Practical Art), Graphics, English, History, Music Studies, Social Studies, Painting (Practical Art), Photography (Practical Art), Printmaking (Practical Art), Sculpture (Practical Art), Technology, Drama Or A recognised art/media/IT foundation programme or equivalent, e.g. New Zealand Certificate in Arts and Design (L4), or New Zealand Certificate in Computing (Advanced User) (L4) Applicants over the age of 20: No academic requirements. English Language: A level of English sufficient to be able to study the Training Scheme. Students whose first language is not English: IELTS overall Academic Band score of at least 6 (with at least 5.5 in each component), issued within the last two years Or an equivalent qualification*. Other Requirements: reasonable level of computer literacy. The Training Schemes involve producing work in electronic forms. Applicants accepted onto the Training Schemes without sufficient computer literacy will be invited to make use of NMIT's computer facilities in order to bring their computer skills up to a sufficient standard to succeed in their studies. Portfolio: Applicants may submit a portfolio of work showing ability in digital media and design. This may include a selection of: * Sketchbooks/workbooks showing the development of ideas Digital media and design works, including both process works and finished works in the medium or field in which the applicant wishes to study * Photographic or digital records of any of the above Special Entry: available in exceptional circumstances
Detailed requirements
Tuition fees
Student success data is unavailable for this qualification.
National Graduate Outcomes Learn more
Note: All KIS information is the most recent available relating to domestic students only. Learn more about Key Information for Students
Start your application today. You'll be glad you did.