New Zealand Certificate in Music (Level 4)
Study for free

Locations and dates

Nelson:

Study options

Full-time and part-time study options available

Length

40 weeks full-time including six weeks of study breaks

Total credits

120

Fees

2022: $6,658 plus $240 Student Services Levy

A Compulsory Student Services Fee also applies ($240 for fulltime students).
Fees listed are for each year of the programme, indicative only and may vary with course selection. View course details for individual fees.

National qualification code

NZ3418
Start your career in music here...
This one year programme is designed to give you the skills you need for employment as a musician, sound technician or event management assistant.
Or you can also pathway from this one year qualification onto the second year of the New Zealand Diploma in Music.
State of the art facilities
You will have the opportunity to organise and perform with fellow students in our Johnny Cash performance theatre.
Music students have exclusive use of our recording studios.
Study alongside other creative industries students from Arts, Media, Interior Design and Creative Writing, in our purpose-built Creative Industries building on Nile Street.
What will I learn?
Sound Production
These courses are designed to prepare you for live and studio sound production.
In MUS401 Sound Production Fundamentals you will explore a range of audio techniques and develop practical skills for elementary recorded and live music sound production.
In MUS402 Live and Studio Sound Production Techniques you will apply essential audio techniques and demonstrate practical skills in recorded and live sound production.
Music Studies
These courses are designed to enable your to learn about music, to write and arrange music and to develop musicianship.
In MUS403 Exploring Music Through Song Writing you will develop your music literacy and your ability to use musical elements to express musical ideas.
In MUS404 Music Literacy for Contemporary Musicians you will increase your music literacy and your ability to use musical elements for expressing ideas in composition, and will use reflective practices to develop their musicianship.
Music Performance
These courses are designed to enable you to build your technical skills, develop attributes for contemporary music performance, increase your knowledge of cultural and industry contexts, and prepare for your own professional practice as contemporary musicians.
In MUS405 Contemporary Music Performance Contexts you will explore a range of contemporary music styles, cultural contexts and issues, and experiment with techniques and processes for communicating musical ideas through performance.
In MUS406 Contemporary Music Performance and Industry Practices you will build your music performance skills and knowledge and develop your understanding of professional practices associated with careers in the music industry.
FreshFM
NMIT Contemporary Music Hour airs from 8-9pm Saturday fortnightly on FreshFM. The show is designed and hosted by NMIT Music students.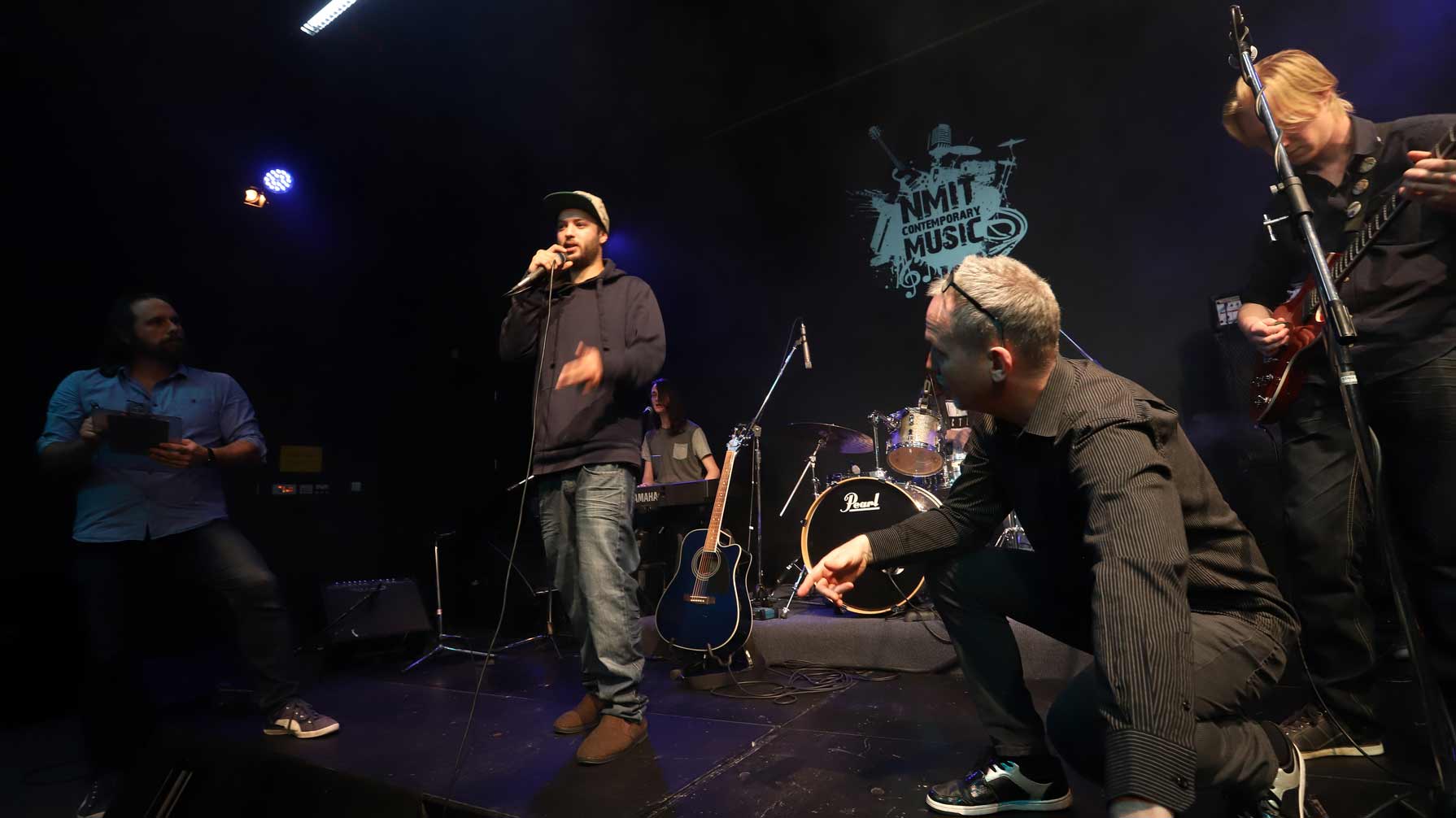 Performance
Practice your skills; performing, organising and supporting live events throughout your studies.
Recording studios
Recording studios are available for music students during class and for self directed learning.
Live performances
Music students organise gigs for live performances for all NMIT students and the general public.
Start your application today. You'll be glad you did.