Graduation: dressed to celebrate success
Hoods, trenchers, Tudor and John Knox bonnets, scarves and gowns—you can see them all at graduation ceremonies across the country.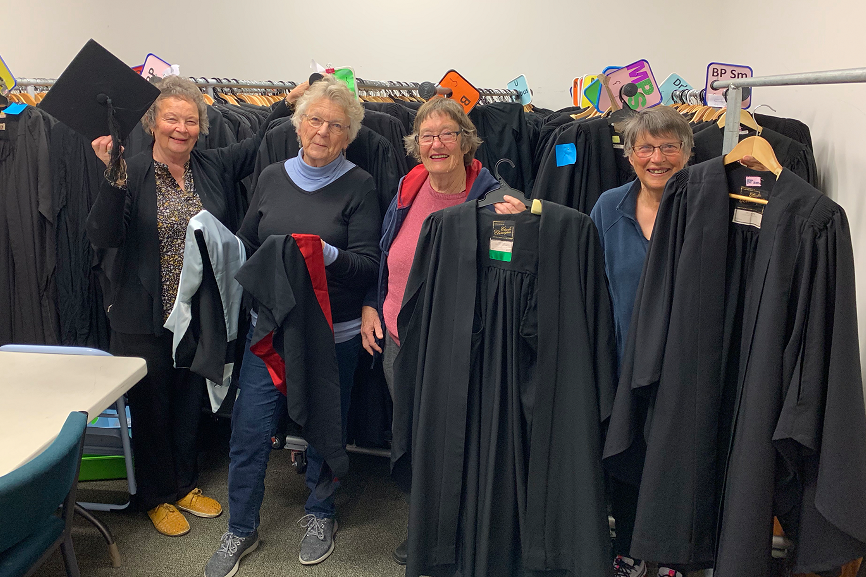 The special academic regalia uses colours and styles to distinguish where someone has graduated from—a tassel on the trencher (hat) or bonnet (velvet puffed cap), the colour in the hood lining or the fur trim on a gown.

Making sure everyone has the right academic regalia to wear at NMIT graduation events is expertly handled by the regalia hire team.

Around 30 volunteers from Soroptimist International of Nelson and others organise and maintain over 400 gowns, hoods and regalia available for hire across Te Tauihu.

Soroptimist and volunteer manager Wendy Logan says regalia is an integral part of the graduation ceremony for graduands.
"It's an important milestone; a time for students, parents and tutors to celebrate their hard work and accomplishments," she says. "We focus on the learners and try to make it a really special, celebratory day for them."

Maintaining and organising official academic regalia is one of the Nelson Soroptimist's major fundraising activities.
"Around six years ago we took over the stock of regalia from the Federation of Graduate Women Trust in Nelson, which was winding up. Transitioning from them felt like a good fit, as our objective is supporting women in the pursuit of education, and the funds we raise helps women and girls further their tertiary study."

Wendy and her team of volunteers provide regalia not only for the 400 plus grandaunds attending the ceremony, but also staff and invited guests whose chose to wear regalia.

"If we don't stock a hood or bonnet from a certain university we have to hire it from other academic regalia hire trusts, and just hope our graduation dates don't clash. Otherwise we can usually supply something similar," says Wendy.

On graduation day the 'regalia volunteers' are there to help the graduands dress for the occasion.
"They are nervous, excited and happy all at the same time, but we are there to help them look good for the street procession. A couple of safety pins in the right place can solve a lot of problems."

Between graduation events Wendy says the team order new stock, make repairs, dry clean gowns and hand wash hoods if required: "Makeup is our worst enemy."

The regalia hire raises around $20,000 each year and this goes to the Nelson Soroptimist Education Trust, chaired by Sandy Stephens.

The trust offers awards, prizes and scholarships worth up to $1500 each to women enrolled in tertiary study each year.