A Master Class, a Mystery Box and a Code Purple
She might have called a few 'code purples' in her time but former chef tutor Catherine Dunkley also left an enduring legacy for future chefs.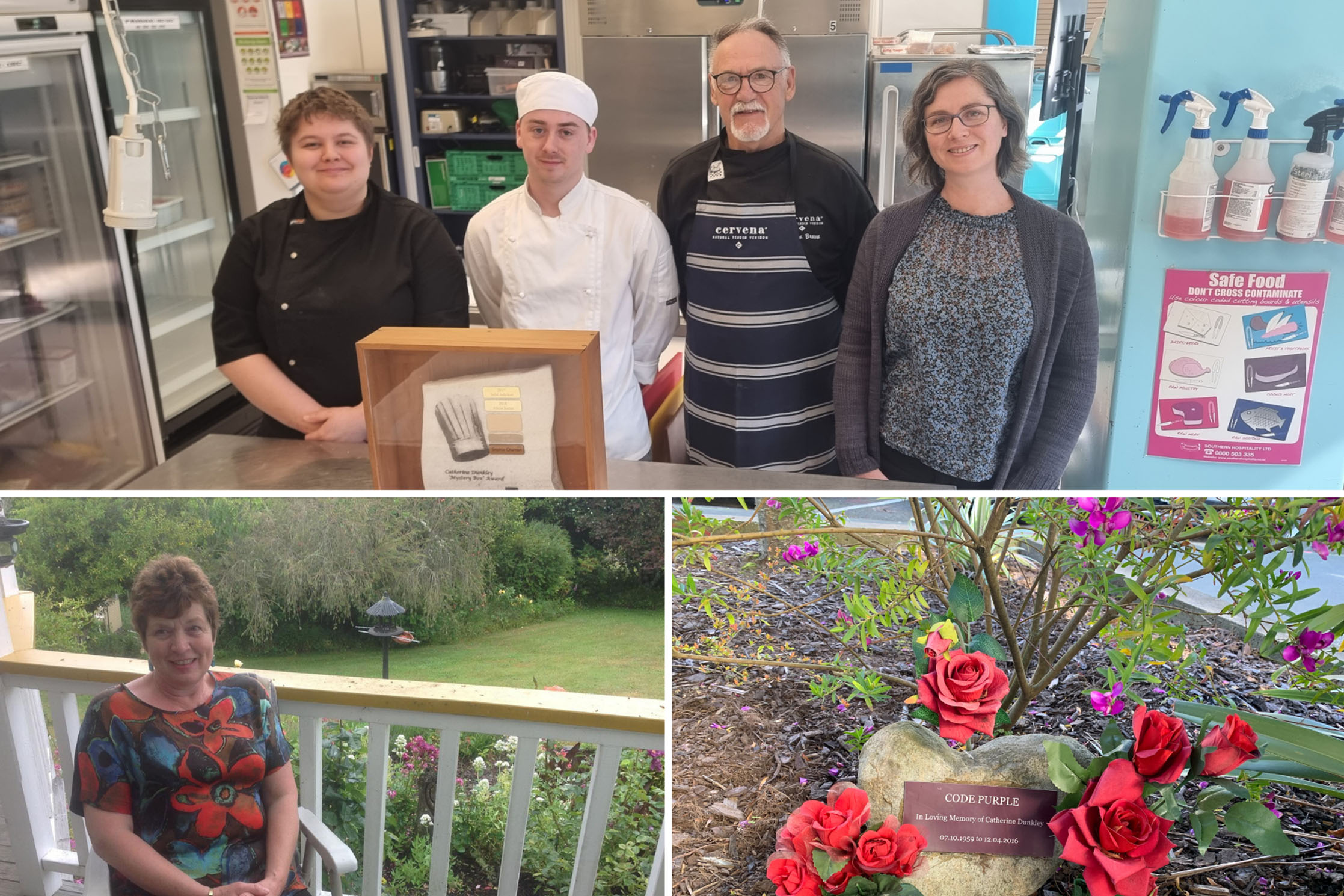 Catherine Dunkley passed away 12 April 2016 after a short illness. Age 56.
She was highly respected by her colleagues and students, and her photo still hangs in the NMIT kitchen where she can keep a close eye on what's going on.
A small purple whisk hangs beside her photo—a reminder of her favourite colour, purple. There are still traces of her trademark purple nail varnish dabbed on her special items of equipment in the kitchen.
Catherine set very high standards for her students. If these weren't met, and her sense of frustration started to rise, she would alert her colleagues to a pending 'code purple'.
This could take many forms, including locking the kitchen if the students were late. However, a 'code purple' was never done in malice and Catherine spent many hours helping students.
The Code Purple Scholarship was set up in her name in 2018 by the Level 5 Culinary Arts students. It is awarded each year to a future culinary student who needs a little extra financial support, to the value of $1000.
There is a special memorial to Catherine outside The Rata Room, T Block on Nile Street.
The Catherine Dunkley Mystery Box Competition
An award was also established in Catherine's memory. Each year the Level 4 Cookery students are given a mystery box of ingredients and have an hour to showcase their skills and create a dish.
Prior to the mystery box competition ākonga get a masterclass from Deer Industry New Zealand Executive Chef Graham Brown, who demonstrates his latest venison cooking ideas.
Graham says venison is a lean, healthy, versatile meat which has a natural affinity with a range of flavours.
In the competition ākonga are challenged to create a dish using venison as the protein component.
The judges in 2022 were Graham Brown, last year's runner up Paige Hutchison, and local chef Nicola Galloway.
Bailey McKenzie won the 2022 Catherine Dunkley Mystery Box award with his seared venison (Cervena) steak set on a bed of kumara puree, lemon asparagus and chilli butter.