Gary Finn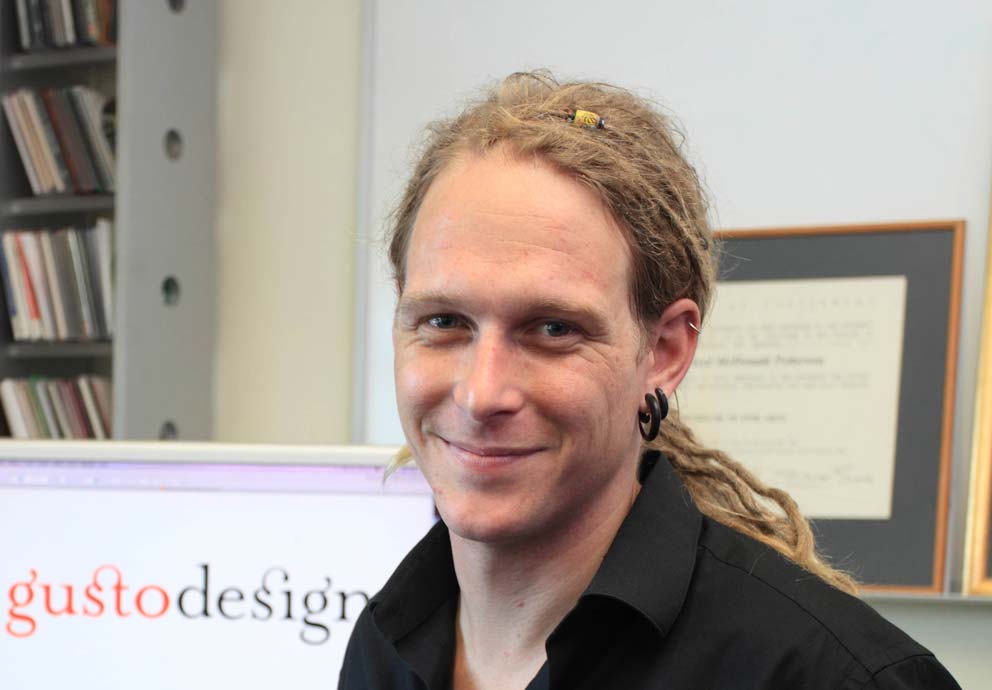 Diploma in Arts & Media (Graphics and Multimedia)
Gary Finn has changed his artistic canvas from human skin to a computer screen. "Designing tattoos was where my art was, but I wanted a career so now I do my designing digitally." He graduated with a Nelson Marlborough Institute of Technology Diploma in Arts and Media (Graphics and Multimedia) (Level 5) last year and is now studying for a level 6 diploma, on his way to completing an NMIT degree in Arts and Media.

Since leaving school in Blenheim, Gary had always wanted to make art a focus of his life, but he had to do a variety of work from furniture moving to vineyard work just to pay the bills. "When I was about 24 I decided I wanted more. If I wanted to make a career out of creativity I had to study and make some choices about what to do." So Gary looked into graphic design qualifications and chose NMIT's Diploma. "I wasn't entirely sure of the final direction I wanted to take and the diploma teaches across such a broad range of areas that it seemed the most logical choice. It also meant I could be near family and friends if I stayed in the top of the south."

Gary says graphic design is very different to pen and ink design for tattoos or t-shirts. "The only real similarity is that in both cases you work to a client brief of what they want." And he says computers definitely have a lot of advantages over ink. "If you make a mistake you don't have to redraw the whole thing you can just erase that particular area." While he studies, Gary works part-time for Nelson design agency Gusto. " You need experience, that's why I'm in an excellent position being able to work for this great graphic designer while I'm finishing my degree. I'm being mentored and learning as I go. I'm very lucky." He has already had some success with his design work, winning a competition to design the logo for Golden Wings - a new high level air charter company, based in Nelson. "The logo will be on the planes and hangars so that's going to be a real buzz to see my work displayed like that."

Getting a job after graduation is the focus for Gary, who's determined to be at the top of an employer's list. "I'm taking extra IT papers so that I can offer both front end and back end website design services. A lot of graphic designers only do the front end and have to sub-contract the back end design, so I'm hoping by being able to do both I have a competitive advantage."

NMIT's tutors have impressed Gary with their knowledge and industry experience. "They've just reinforced to me that you need technological skills as well as creativity to do well as designer." Gary has no hesitation about his job choice. "A lot of artists struggle to make a living, whereas graphic design is an avenue for me to still be creative and have a career with a great future."
Find out more about NMIT's Digital Design and Photography programmes.
Watch an interview with Gary Finn on YouTube: